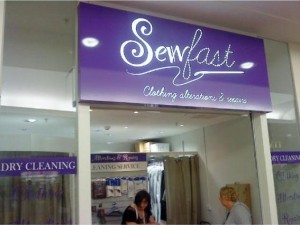 The fabulous shop sign for Sewfast was fabricated using a state of the art CNC routering machine. The letters are fine and exceptionally detailed and there are ornate flourishes to them. There is also a stitching effect on the word 'fast' and a fine sewing needle completing the sign with an interesting underline.
The use of white LED lights behind the lettering creates an attractive and eye-catching shop sign, which really stands out in Meadowhall despite the fierce completion from a number of high street brands.
Shop Signs and CNC Routering Machines
The level of accuracy attained using a CNC routering machine is above and beyond what could be achieved by hand, making this method a fantastic option for any shop sign Sheffield.
This computer numerically controlled system uses computer software to control the movement of the CNC machine, resulting in a high quality, professional and flawless finish to any shop sign. It can fly through a variety of materials including aluminium dibond, plexiglass, Foamex, correx, aluminium, Perspex, plastics and even wood, and is, therefore, perfect for cutting panels, cutting shapes, stencils and fret cut sign trays.
Meadowhall Alteration Shop Sign in Sheffield
Sewfast is a little shop on the lower Arcade in Meadowhall, very close to Marks and Spencer. The shop offers a clothing alteration and repair service, as well as an express alteration service for jobs that just can't wait. They also offer a full dry cleaning and laundry service for clothing, and a specialist cleaning service for household items such as curtains and duvets.
Sheffield Shop Sign Making Service
At Image Sign Studio, their sign making services include design and manufacture in a variety of different materials and a range of different techniques. As professional sign makers Sheffield, they have an on-site flat bed CNC routering machine that can be used to make beautiful shop signs.
If you are starting a business and want to stand out from the crowd with a great shop sign Sheffield, or you are an established business thinking of a refurbishment or rebrand, Image Sign Studio can help. They have extensive experience designing and manufacturing shop signs Sheffield, including CNC routered signage and LED illuminated shop signs. For more information about the options available, or for some friendly advice and guidance from their expert team, call Image Sign Studio, professional shop sign makers in Sheffield on 0114 261 7617.