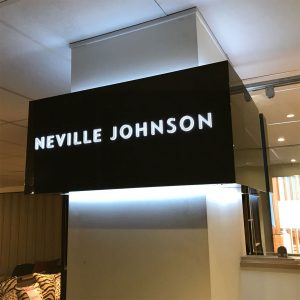 First impressions are everything, the first thing a prospective customer is going to see when approaching your business is your signage. You can distinguish a lot about a business by the quality of the sign that proudly holds their name. We are firm believers in quality and, as such, we are committed to manufacturing a range of high-grade shop signs and commercial signs in-house.
With our base in Sheffield we have the perfect scope to provide our range of products not only locally, around Rotherham and South Yorkshire but also UK-wide. We offer a full service including signage design, manufacturing and installation meaning we can work together to create the perfect sign to reflect your business. It is important to remember that a sign will work for you 24/7, forever promoting your business and what you have to offer. You want a sign that accurately portrays your business and that is why we are so passionate about getting it right every time.
We offer shop signs and commercial signs for all requirements. Our popular signs include:
At Image Sign Studio, our signage specialists will be able to create exactly what you are looking for. We pay attention to every detail, for example sign letters, to help create different looks and effects for our signs we offer a variety of lettering. Maybe your sign will look better with acrylic letters or flat cut letters or maybe the letters need to 'pop' more so acrylic cut out letters, aluminium letters or perspex letters signage may work better. We look out for these things so you don't have to and we are more than happy to discuss the options with you to help you decide which lettering will work best with your design. Every one of our products is manufactured in-house which means we can make it exactly as you need it without outsourcing or adapting your ideas.
If your business needs a sign, we are here to help you. There are many aesthetic and logistical design decisions that need to be made when choosing a sign and should they be overlooked, you risk losing a worthwhile business investment. Thanks to our on-site manufacturing we are able to make high quality, individually tailored signs that give back to their businesses time and time again. No matter how big or small your signage needs, contact Image Sign Studio for more information.
Call Image Sign Studio on 0114 261 7617 or visit www.imagesignstudio.com